Jag var bara tvungen… Tidigare idag lade jag ut några bilder på LP-plattor som jag lät förgylla dagens arbetsmiljö. Det var Bettina, Britt Dahlén…och så var det The Bubbles, d v s soundtracket från filmen Gröna Gubbar från Y.R.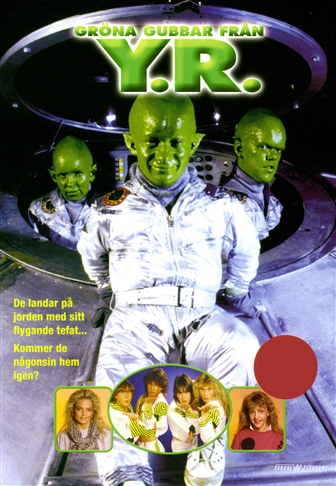 Ja, du som gammal OKEJ-läsare minns naturligtvis filmen!? Hans Hatwig, mannen bakom OKEJ, fick för sig att han skulle ge sig på att göra film, stärkt av framgångarna med tidningen, som vid den tiden väl får sägas låg på topp. Det var kanske inte det bästa beslut han tagit, men herregud, man måste ju prova, eller hur? ;) Historien om filmen finns naturligtvis i boken "Och allt som fanns var OKEJ", som alla självklart har hemma i bokhyllan, men lika många sitter nog inte med nämnda soundtrack i skivhyllan?
The Bubbles var alltså bandet som sattes ihop enkom för filmen, och bestod av sångaren Leif Alderskanz, bröderna Roger och Christer Nordström samt John Sandh, som ju samtidigt var med i Shanghai. Som låtskrivare anlitades Peo Thyrén och Kjell 'Kee Marcello' Lövbom, och som den envise 'konspiratör' jag nu är, så hävdar jag att det var nånstans här som embryot till Sha-Boom föddes. En av låtarna på soundtracket, "Poster On The Wall", dök f ö senare upp som B-sida på R.O.C.K-singeln, så kopplingen finns där, utöver att John Sandh och Peo Thyrén ju båda var med i ursprungssättningen av Sha-Boom.
I vilket fall, här är singellåten…
The Bubbles – Holding Hands (In The Back Of My Car)
(Thyrén-Lövbom)
1986, KGR Records
Och förresten, mer kuriosa. De tre i bandet som inte var med i Shanghai (och som sagt senare i Sha-Boom) utgjorde några år senare bandet Swedes som bl a fick framföra en svenskspråkig version av sin singel "Don't Break My Heart Again" under hockey-VM i Globen 1989. Jag har inget som helst minne av detta, men så var det tydligen. Vill du se omslaget till singeln? Nej, det vill du inte – men det kommer här…