Visst är det så att man fascineras av olika saker i livet, och för min del kan det t ex kännas fascinerande att följa stickspår och korslänkar i sökandet efter en biografi och/eller diskografi för en för mig okänd artist – som i det här fallet…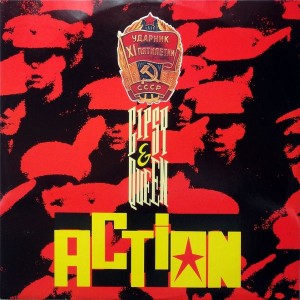 Jag tänkte nämligen köra en 'Beat Box-post', och funderade på vilken låt/artist jag skulle utgå ifrån. Valet föll på Gipsy & Queens Action – en låt som jag minns var en personlig favorit när den kom, och en av de Beat Box-singlar som jag faktiskt köpte nysläppt från skivhyllan :) Grejen var ju då dock att jag faktiskt inte visste något alls om den här gruppen. Jag vet att det var The Godfathers of Italo, Mauro Farina och Giuliano Crivellente, som låg bakom 'High NRG-produktionen', men vilka som var 'Gipsy' och 'Queen' var som sagt helt okänt för mig. Så, jag sökte loss på internet – och ja, vad kan man säga – där fanns en del att finna :)
Gipsy & Queen – Action (Vocal Edit)
1988, Beat Box – BB7189/8189
(Mauro Farina och Giuliano Crivellente)
Producerad av Giacomo Maiolini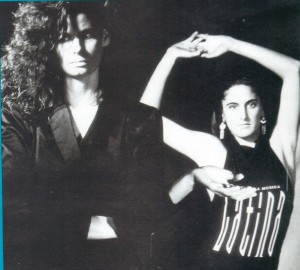 Medlemmarna i den här duon angavs nämligen som Clara Moroni, Elena Feretti och Emanuela Gubinelli (!), vilket faktiskt är helt normalt om man ser till de här tjejernas övriga karriärer. De dyker nämligen upp under ett otal olika artistnamn och i olika samarbeten, och verkar dessutom ha satt i system att ersätta varandra här och där.Man kan väl säga att det här blir ett målande exempel på den nästan ogripbara massproduktion som skedde under några år i den italienska hitfabriken, och då kanske just främst från Factory Studios i Milano.
Kuriosavarning! Här är ett utdrag ur listan för Clara Moronis alias, hämtad från discogs.com: Angie Starr, Anika, Ann Sinclair, Axia, Cherry, Clara Newfield, Clara Zoni, Debby, Deborah Haslam, Denise, Doki Doki, Dolly, Donna Luna, Elisha, Erika, Gaby, Harmony, Hely, Janet, Jenny Kee, Jilly, Judy Crystal, Karin Rex, Karina, Kim Loren, Lady Lust, Leila, Leslie Parrish, Licia, Linda Ross, Lisa Ferrari, Lisa Johnson, Maggie May, Maggie Sue, Mandy Gordon, Marie Belle, Marina Lai, Mela, Melody, Milk And Coffea, Mio Tipo, Morena, Niki Niki, Olivia, Paula Marsh, Pizza Girl, Priscilla, Queen Of Times, Ross, Sally Rendell, Serena, Suzy Lazy, Taleesa, Valentina, Vanessa, Vanity, Veronique, Vicky Vale, Virgin, Za-Za
Är du nyfiken på vad Elena Ferretti sysslat med genom åren? Här är en minst sagt omfattande uppställning videos på hennes YouTube-kanal: http://www.youtube.com/user/ElenaFerrettiTV/. Längre ner här hittar du två exempel!
På bilden ovan (hämtad från omslaget till Action) är inte Emanuela Gubinelli med. Så, vid den tiden kanske hon mest koncentrerade sig på att vara Vanessa i polsk TV? :) Här är ytterligare en klassisk 'Beat Box-doldis':
Vanessa (Emanuela Gubinelli) – Crazy for you (Live på polsk TV)
1988, Beat Box – BB7156/8156
(Mauro Farina, Giuliano Crivellente, Malcolm Charlton)
Producerad av Giacomo Maiolini

Jenny Kee (Clara Moroni) – Hot love (Lovely Hearts Mix) 
1988, Beat Box – BB7179/8179
(Mauro Farina, Giuliano Crivellente)
Producerad av Mauro Farina och Giuliano Crivellente
Veronique (Elena Ferretti) – Night Style [Violin Version] (1985)
(Gino Caria, Luigi Fedel, Sandro Oliva)
Producerad av Mauro Farina och Giuliano Crivellente
Rose (Elena Ferretti) – Fairy Tale [Maxi Version] (1985)
(Gianfranco Bortolotti och Roberto Arduini)
Producerad av Gianfranco Bortolo

Talessa (Clara Moroni) – I found luv [TV-live] (1994)
(Amir Saraf, Ulrich Brenner, Emanuella Gubinelli)
Producerad av Giacomo Maiolini