Min lista:
 –
 Miko Mission | How Old Are You [BB 7022] #16 totalt
 Ken Laszlo | Tonight [BB 7046] #3 totalt
 Den Harrow  |  Tell Me Why  [BB 7130] #31 totalt
 JD Jaber  |  Don't Wake Me Up [BB 7087] #25 totalt
 Laserdance  |  Power Run [BB 7114] #22 totalt
 Radiorama  |  Aliens [BB 7099] #29 totalt
 Brian Ice | Tokyo [BB 7079] #13 totalt
 Roy  |  Destiny Time [BB 7055] #4 totalt
 Scotch | Mirage [BB 7072] #15 totalt
 Mike Cannon  |  Goin' Crazy [BB 7083] #24 totalt
 Eddy Huntington  |  Up & Down [BB 7127] #50 totalt
 Koto  |  Visitors [BB 7033] #5 totalt
 G.G Near  |  Living In A ROM [BB 7086] #7 totalt
 My Mine  |  Can Delight [BB 7083] #23 totalt
 Fred Ventura  |  Leave Me Alone [BB 7111] #54 totalt
 Portofino  |  All My Love [BB 7066] #58 totalt
 R.Bais  |  Take The Love [BB 7090] #38 totalt
 B. Blase  |  Bandolero [BB 7110] #60 totalt
 Joe Yellow  |  Easy Lovers [BB 7164] #64 totalt
 Silver Pozzoli  |  Pretty Baby  [BB 7094]  #46 totalt
 R.Bais  |  Dial My Number [BB 7051] #63 totalt
 Mike Cannon  |  Voices in the Dark [BB 7009] #30 totalt
 Alan Ross  |  Valentino Mon Amour  [BB 7036] #32 totalt
 Swan  |  Don't Talk About It [BB 7058] #37 totalt 
 Cyber People  |  Digital Signal Processor [BB 7171] #57 totalt
 B.Blase  |  Shame [BB 7014] #67 totalt
 Den Harrow | Bad Boy [BB 7053] #14 totalt
 Albert One  |  Every Body [BB 7157] #78 totalt
 Lucia | Marinero [BB 7054] #6 totalt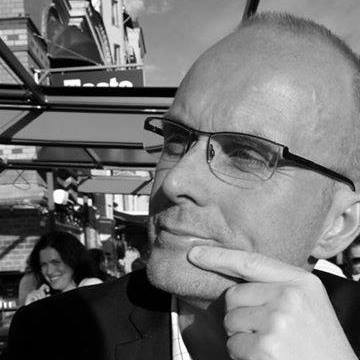 1. Namn, ålder, hemort
Tommy A. Olsen. 45 år. Oppvokst i Vadsø nord i Norge, men i dag bosatt i Drammen like utenfor Oslo.
2. Varför tror du att du blev tillfrågad om att vara med i den här s k expertjuryn? 
Jeg opprettet for noen år siden en Facebook gruppe for Beat Box lablet, regner med at det er det som er grunnen? :-)
3. Vad har italo disco i allmänhet, och Beat Box-labeln i synnerhet, betytt för dig genom livet?
Italo Disco og da spesielt Beat Box lablet har vært en ekstremt stor del av  mitt liv. Jeg oppdaget Italo gjennom Beat Box på midten av 80-tallet gjennom en record pool som sendte ut plater til ungdomsklubben (youth club) hvor jeg og min gode kompis Hans Wickstrøm var DJ'er. I starten så var det Scotch, Silver Pozzoli, Miko Mission og Den Harrow (med Tom Hooker på vokal) som var de store for oss. Målet for meg og Hans var å få en komplett samling med alle Beat Box utgivelsene på 12 og LP. Dette var ikke lett da vi var bosatt langt oppe i nord. Vi bestilte BB plater direkte fra Vinyl Mania i Sverige noe som var svært dyrt. Platene var ikke så dyre, men frakten var ekstremt kostbar opp til Vadsø (se kart).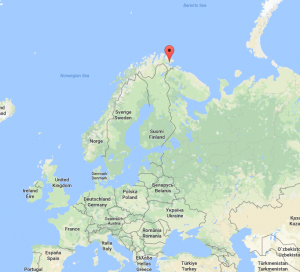 Som 14 åring fikk jeg jobb i en platebutikk, og fikk dermed muligheten til å bestille musikk direkte fra Grammofon AB Electra som var distributøren av Beat Box platene.
Her ser du meg og Hans gå igjennom katalogen til Grammofon AB Electra og skrive lister over hva vi skulle bestille.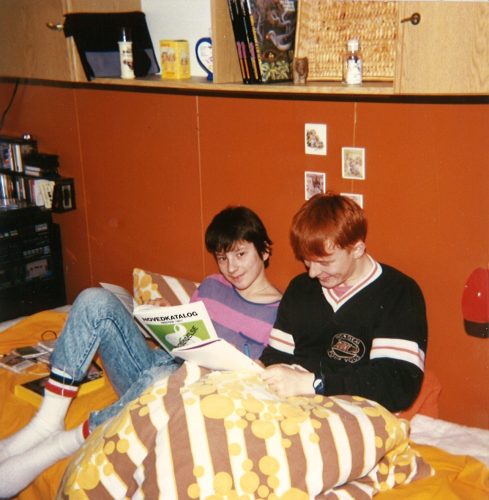 I 1990, to dager etter at jeg fylte 18 år, begynte jeg å reise rundt i Norge som fulltids DJ og fikk dermed muligheten til å besøke mange bruktbutikker og lete etter andre Italo utgivelser. Prisen den gangen på en brukt Italo 12 lå på 5-10 kroner, da ingen var interessert i denne sjangeren :-)
I dag har jeg en komplett BB samling på 12 og LP. Mitt nye mål er å få på plass alle 7´erne i løpet av året da de har noen cover design som ikke finnes på 12 versjonene. I tillegg har jeg en rimelig stor samling med Italo.
De siste årene har jeg også vært så heldig at jeg har fått møte og blitt venner med flere av artistene som ble gitt ut på BB. Jeg har vært med å skrive og produsere låter (ikke Italo) og remixet flere av disse artistene som er blitt releaset digitalt. Brian Ice (EP:en "I Am"), Eddy Huntington ("Rainy Day In May") og Albert One (remix av "Sing A Song Now Now"). Jeg holder også på med en helt ny produksjon nå med Fred Ventura på vokal.
Italo Disco er mer populært nå enn det noensinne var på 80-tallet, og jeg og min venn Hans driver fortsatt å DJ:er sammen på rene Italo vinyl kvelder på klubber i Norge.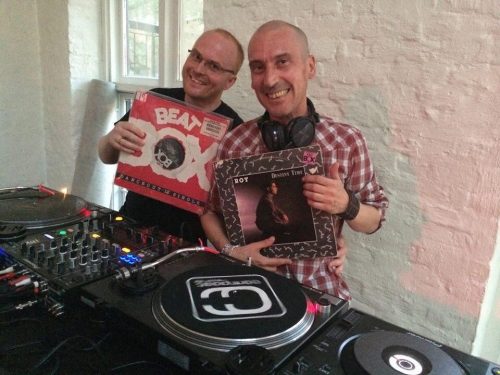 4. Det fanns (finns) ju gott om kreativa artistnamn i genren. Om du skulle ha givits ut på Beat Box 1986, vad skulle du ha hetat?
Vanskelig spørsmål..men siden jeg heter Tommy og er fra nord: "Tommy North" :-)
---
PS. Här är en grym låt från Tommys topplista, som inte räckte till för vår nedräkning (Totalt #38).
[wpdevart_youtube]xc0LF4o-08M[/wpdevart_youtube]