The Sylvesters – Happy happy year for us all [12″ Club Mix] (1990)
Inte mycket att orda om! Imorgon är det nyårsafton, och jag har förstått att det är väldigt vanligt att fira det, inte sant? ;-) "It's a time for lovers, it's a time for romance…" som det sjungs i den bifogade visan.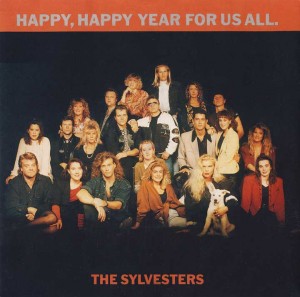 Well, som sagt – inte mycket att orda om – här är den självklara nyårslåten vid sidan av ABBA:s örhänge, eller hur? Lili & Sussie, Pernilla Wahlgren, Jerry Williams, Ankie Bagger, The Boppers, Troll, Jean-Paul Wall, Björn Ström, Suzzie Tapper och Lasse Tennander – ett stjärnuppbåd anno 1990 som heter duga! Och eftersom jag utgår ifrån att den här Norell-Oson-Bard-låten är välbekant i dessa kretsar så ger jag er den s k 'tolvtumsklubbversionen', naturligtvis rattad av allas vår Anders Hansson. Happy happy year!
The Sylvesters – Happy happy year for us all
(Norell-Oson-Bard)
1990, Sonet Grammofon
Producerad av Anders Hansson