BB042 | Miko Mission – Two for love (1985)
Något så ovanligt som en hitlåt! Eller ja, tre veckor i Trackslistans nedre regioner i januari 1986 kanske inte räcker för att kvala in som det? Kanske inte, men i min värld så är i alla fall en av de mer välkända Beat Box-låtarna, och tveklöst också en av de bästa!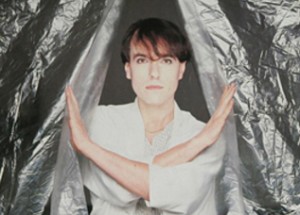 Miko Mission, egentligen Pier Michele Bozzetti, var en av de stora italodiscohjältarna, och i hans hit "How old are you" från 1984 så bekräftas verkligen tesen om att en stor del av eurodiscovågen iscensattes på rent jäkelskap av kreativa italienska affärsmän och producenter som ville driva med alla i Europa som föredrog engelskan före italienskan. Refrängen "Now, how old are you, where is your harbour. Have many things to do, open the door. Yes, i live so true, without my lover. But tell me if the sky is blue, how old are you?" är ju nonsens på hög nivå på samma sätt som Miko Missions kollega Den Harrows artistnamn, som ju med italiensk frasering uttalas "denaro", d v s pengar…
Men, över till den här låten då – som ju i alla fall har lite vettigare text. Låten skrevs av Miko Mission själv tillsammans med Graziano Pegoraro och producerades av pesudonymen Saar, vilket var David Zambelli och Walter Verdi som bl a låg bakom många av hitsen för Scotch.
Miko Mission – Two for love:
(Bozzetti, Pegoraro)
1985, Beat Box BB 7042
Prod: David Zambelli, Walter Verdi
Förresten, om din italienska är under kontroll; läs mer om Miko Mission, eller Don Miko som han också kallar sig, här: http://www.donmiko.it/index.htm. Där hittade jag f ö hans framträdande på San Remo-festivalen 1976 :-)