Body Heat – Dancing in the moonlight (1986)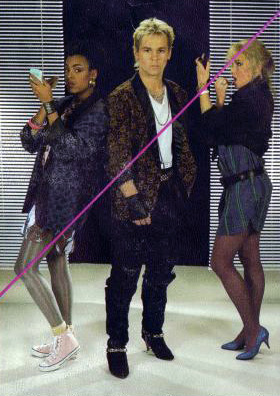 Back to the roots – det var just den här typen av låtar som var anledningen till att jag ville börja dela med mig, och det är alltid de här jag liksom kommer tillbaka till.
Och ja, visst är Rex Gisslén inblandad, och inte minst Max Brunzell, som t o m figurerar i själva "gruppen".
De båda har skrivit och producerat och det är precis lika bra som det brukar! Men vad som är minst lika intressant med den här konstellationen är flickorna som flankerar Max på omslaget här intill – är det nåt bekant? Javisst, till vänster har vi Kayode "Kayo" Shekoni, som redan 1979 varit med i en tidig upplaga av Freestyle och långt senare blev 'disco-tant' i Afro-Dite. Till höger har vi Sanna Ekman, som vid den här tiden var dansare och snart på väg till New York just för att dansa, vilket hon gjorde ända tills hon i mitten av 90-talet dök upp som Katta i TV-serien Tre Kronor.
Body Heat – Dancing in the moonlight
(Rex Gisslén, Max Brunzell)
1986, Lollipop Records – LOLS 0850
Producerad av: Rex Gisslén, Max Brunzell