Kalender – Lucka #3: When In Rome – Wide Wide Sea
Finns det något tråkigare än samlingar/spellistor som "Most Wanted 80's" eller "Great Hits Of The 80's"? Jo, det gör det kanske, men ååh så tråkiga de ändå är. Samma låtar, om och om igen. Oftast finns det ju faktiskt andra låtar med de där artisterna som man också kan lyssna på. Och till och med uppskatta i alla högsta grad, inte sant?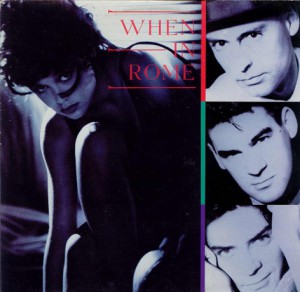 Här är ett sånt exempel, även om i och för sig When In Rome's hit The Promise är med på alldeles för få såna listor. Hmm, egentligen ett ganska dåligt exempel med andra ord. Men ändå – hur poppis den som sagt än var, så blev det inte så mycket mer i hitväg för dessa britter, och den här släpptes inte ens på singel…
Psst, missa inte albumet längre ner – ett underskattat popsnickeri!
When In Rome – Wide Wide Sea
1988, 10 Records
Producerad av Richard James Burgess
[wpdevart_youtube]hSR5nCtoWoE[/wpdevart_youtube]