"Tillbaka till rötterna", brukar jag prata om alltsom oftast, i den mening att jag ju ibland behöver just gå tillbaka till anledningen till varför den här bloggen/sajten ens finns. Mina singlar, mina husgudar…ja, ni vet. Så nu kör vi lite Sonet, Secret Service och så…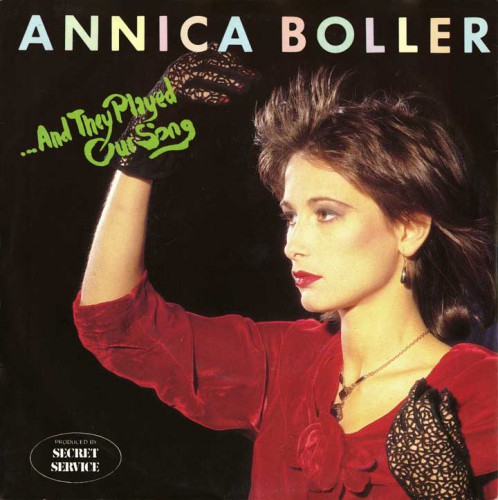 Annica Boller har ju dykt upp här tidigare och låt oss se det här inlägget lite som en logisk fortsättning på det här, från januari 2013, och jag tänker inte återupprepa allt som stod där. Låt oss bara än en gång påpeka hur jäkla bra, och så gruvligt underskattat, albumet All The Songs från 1986 är.
Jag nämnde då också att flera av låtarna som Annica Boller släppte på vägen fram till det albumet och på det samma, sedan dök upp hos andra artister i Sonet-stallet. Här är först ett sådant exempel; 1987 vara Bara du och jag uppföljare till Lili & Sussies 'landsplåga' Oh Mama, men redan 1986 lät den så här, på baksidan av singeln All The Songs Belongs To You samt på ovan nämnda album.
Annica Boller – Let Me Talk To You
(Norell-Oson-Boller)
1986, Sonet Grammofon
Producerad av Tim Norell och Ola Håkansson
[wpdevart_youtube]-c4qtyu3sbc[/wpdevart_youtube]
"På vägen fram till…" skrev jag nyss, och så var det ju. Det tog ca två år från första singeln Saint-Paul de Vence släpptes, tills dess att albumet kom. Singellåtarna var ju då inkluderade, alla utom en. På baksidan av And They Played Our Song låg A Sunny Day, som fram tills nu inte funnits någon annanstans än på just den vinylen ;-)
Annica Boller – A Sunny Day
(Norell-Oson)
1984, Sonet Grammofon
Produced by Secret Service
[wpdevart_youtube]uia_4CEsoI0[/wpdevart_youtube]